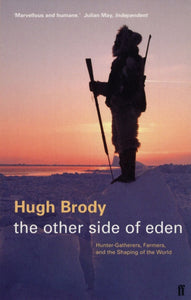 The Other Side of Eden book
Regular price
£10.99
£0.00
Tax included.
"The Other Side of Eden: Hunter-gatherers, Farmers and the Shaping of the World" by Hugh Brody.
Hugh Brody crystallizes three decades of studying, learning from, crusading for, and thinking about hunter-gatherers in this profound and provocative book.
Contrary to stereotype, he says, it is the farmers and their colonizing descendants--ourselves--who are the true nomads. By contrast, the hunters have a deep attachment to the place and ways of their ancestors that stems from an enviable sense, distinctively expressed in thought, word, and act, of being part of the fabric of the natural and spiritual worlds.
Paperback | 400 pages
127 x 197 x 22mm | 310g
Faber & Faber
SKU: 726
---
Share this Product
---