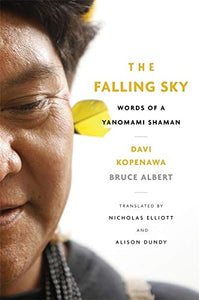 The Falling Sky: Words of a Yanomami Shaman book by Davi Kopenawa (signed)
Regular price
£40.00
£0.00
Tax included.
"The Falling Sky: Words of a Yanomami Shaman" is the first book ever written by a Yanomami Indian, Davi Kopenawa - shaman and spokesman for his people.
It is a unique account of the life story of Davi Kopenawa, who heads the Yanomami Association Hutukara and who continues to defend the rights of the tribe around the world.

In his fascinating book, Davi describes the rich culture, history and ways of life of the Yanomami of the Amazon rainforest. He recounts his initiation as a shaman and his first encounters with outsiders – including the gold miners who flooded Yanomami land during the 1980s and caused the death of 1 in 5 Yanomami through disease and violence. He vividly describes his impressions of Western culture on trips abroad, such as his first journey outside of Brazil, when he visited Europe at the invitation of Survival International.

"The Falling Sky" is an impassioned plea to respect his people's rights and preserve the Amazon rainforest. Watch Davi speaking about "The Falling Sky."

Davi said, "This book is a message for the non-Indians. We want to teach people about our shamanic dreams … I hope that the non-Indians will learn from the book and make them think about our history."

"The Falling Sky" also challenges wide-spread perceptions that the Yanomami are "fierce" and "violent", as promulgated by the highly controversial anthropologist Napoleon Chagnon. 
-
UK delivery only. Orders from all other regions will be cancelled and refunded.
Due to the weight of this item, a shipping surcharge of £6 has been already added to the price.
Hardback | 648 pages | 235 x 156 x 44 mm | 1074 g 
SKU: 818
---
Share this Product
---