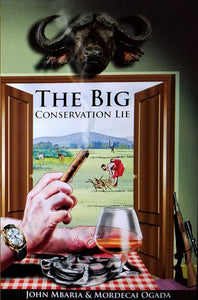 The Big Conservation Lie book
Regular price
£14.99
£0.00
Tax included.
In this groundbreaking new exposé, Kenyan authors John Mbaria and Mordecai Ogada reveal the abuse and injustice that results from the conservation industry in Africa, and the negative impact of conservation not just on indigenous peoples but on the environment itself. They explain how the vast wealth of indigenous and local peoples' ecological knowledge has been suppressed by the cult of the "white savior," who is placed as the ultimate, trusted authority on conserving the environment.
"The wildlife conservation narrative in much of Africa is thoroughly intertwined with colonialism, virulent racism, deliberate exclusion of the natives, veiled bribery, unsurpassed receipt, a conservation cult subscribed to by huge numbers of people in the west, and severe exploitation of the same wilderness conservationists have constantly claimed they are out to preserve."
This book is a must-read for anyone who cares about tribal peoples' rights and the future of the environment.
Read a review of the book by Survival's Lewis Evans.
Paperback| 210 pages
140 x 216 x 12mm | 272g
Lens&Pens Publishing
SKU: 852
---
Share this Product
---